Door het optimaal versnijden van het riool en afvalwater bouwen deze pompen hoge drukken op en transporteren het afvalwater kilometers ver door kleine persleidingen. Het robuust en beproeft ontwerp en het toepassen van hoogwaardige materialen garanderen een probleemloze werking, lage bedrijfskosten en een lange levensduur. Unieke snij-capaciteit van meer dan een kwart-miljoen versnijdingen per minuut.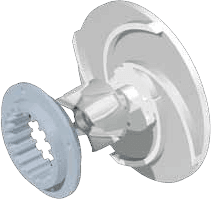 Application:
Domestic wastewater
Agricultural wastewater
Industrial wastewater with solid components
Campsites and holiday homes
Ships
Capacity:
up to 24 m³/h
Pressure:
up to 42 mwk
Discharge:
40 mm (1 ½*)
Cutting capacity:
4425 times per sec.